About Jason Rosette: Multimedia Producer, Filmmaker, Educator
Greetings!
Hi! My name's Jason Rosette. I'm a writer-director, multimedia producer, voice talent-performer, and educator with over two decades experience producing media in the USA and internationally.
I've been producing media since I was a kid, starting with backyard Super-8 movies growing up in Ohio. I later moved on to video, photography, and multi-track music recordings in high school, before heading out to New York to broaden my horizons.
With a caddy scholarship from an Ohio country club, and a Trustee scholarship from NYU, I was able to attend film school and graduated from NYU Film with a BFA, Film & TV. I made my first self-funded independent drama, Charlie's Box, shortly after graduation.
First Major Media Efforts
A few years later, while working as a sidewalk bookseller in Manhattan to make ends meet, I started shooting what would go on to be the award winning feature documentary, BookWars ('Terrific' - LA Times * 'Superb' - NY Film Critics Circle).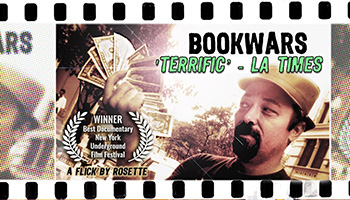 Due to budget limitations, I shot, co-produced, edited, directed and narrated that project, learning everything I could along the way.
Since then, whether working as a media maker or educator, I've always been an advocate of learning and producing in an applied, hands-on way.
My feature follow-up to 'BookWars' was a scripted narrative drama called Lost in New Mexico, which I wrote, directed, and acted in as well. Also produced on a microbudget (prior to the Screen Actors Guild microbudget agreement), I took an approved leave of absence from the Guild in order to paying my own workman's comp insurance as a union actor.
After an invigorating, interesting, but grueling stint putting that project together in New Mexico, I decided to take a break from the US-based independent film world in order to build up my experience as an educator.
Working Internationally
I went to Southeast Asia on a one-way ticket, and began scouting for work as a teacher.  Although I started teaching English and other subjects, I became intrigued by the developing media sector in Cambodia, which was still recovering from virtual destruction during the Khmer Rouge regime and post-conflict years.
Cambodia
Thus, I pivoted to Cambodia in 2005 and continued teaching while also becoming involved in local media production there. I helped set up the first video production school in Cambodia, the Department of Media and Communications at Royal University of Phnom Penh in 2006, and worked as a lecturer there through the fulfillment of my contract.
I then worked as a freelance writer-director, shooter and editor of advocacy videos (mainly) for local and international NGOs. I also did some voiceover work, and location managed for a range of visiting productions.
As I became aware of the ins and outs of the international development sector, I decided to enhance my knowledge in that area. I matriculated as a Masters student at Royal University of Phnom Penh, as one of two foreigners (just me and Roger from Canada!) in a program supervised by Nagoya University of Japan.
While I was working towards my Masters Degree (which I gained in 2010), I founded and co-organized the first internationally recocgnized film festival to take place in Cambodia since the end of the Khmer Rouge era - CamboFest: Film and Video Festival of Cambodia. While I was still working as a teacher at local universities and language centers in Phnom Penh, I was also receiving and viewing screeners (then still on DVD), organizing and administering the event, and teaching my Cambodian colleagues to assist with festival operations.
CamboFest influenced and paved the way for an entire tranche of regional festivals which followed, including the France-EU funded Cambodia International Film Festival, the Luang Phrabang Film Festival (Laos), and a sister event I also founded later in Bangkok, the Bangkok IndieFest. However, after four seasons, well funded EU-based rival agencies and foreign movie pirates alike chipped away at the event so persistently, that I decided to take up an offer from a production services collague in Bangkok. I relocated to Thailand for two years to continue my media adventures there while things 'cooled off'.
Thailand
In Bangkok, I was forensic editor on a well-produced half-million dollar feature film that had suffered mysterious lapses in production, and thus I was brought in to salvage that project by converting it into a TV movie.  I edited in Final Cut Pro, and supervised post production, successfully linking missing scenes with dream sequences and diegetic voiceover.
At the same time, I founded and launched another regional independent film festival, the Bangkok IndieFest.  While the IndieFest did not suffer from the same sort of interference from rivals and interlopers that had affected the CamboFest in Cambodia, and was overall easier to sponsor and produce, the violent 'Red Shirt' protests at the time caused the event to be postponed twice as neighborhoods burned and curfews were imposed.  However, we persisted, and re-launched the event just after the cessation of protests, as the first cultural event (and CNN Go pick) to take place in Bangkok after the 'Red Shirt' protests.
Subsequently, I worked as a media lecturer at a local Bangkok University while co-writing a feature length animated screenplay ('Swordsman') for a Thai animated production company.
Concluding that effort, I returned to Cambodia to produce an educational video series for a DAI/USAID funded organization promoting development in the Cambodian garment industry. With earnings from that effort, I pivoted  into research and development of the supernatural historical drama, Freedom Deal: Story of Lucky.
This was my first independent scripted drama made in Cambodia; the story is set in 1970 during the US-ARVN incursion, and revolves around two villagers who are making their way from the edge of the Vietnam conflict to the safety of the capitol. I directed in Khmer with the assistance of my longtime Cambodian colleagues. Fundraising was undertaken on IndieGogo (in 2012) as one of the first, if not the first crowdfunded projects in Cambodia to use that platform.
Originally scripted as a feature - and with the full support of the Cambodian government - I decided to pare the story down to an episodic approach for budgetary reasons, as funding was still extremely minimal.
Burma (Myanmar)
Shortly after production of Freedom Deal, but while still editing, I received a job offer to teach English at the US Embassy's American Center in Rangoon, Burma (*Yangon, Myanmar - they still use the name Rangoon and Burma tho). So, I became a local embassy hire and lived in Yangon for a year while teaching EFL, critical thinking and related activities.
Due to embassy security and limited internet infrastructure in Burma at the time (2014), there was only one non-classified 'open' internet station available for staff. Therefore, I stayed over on weekends, using the relatively fast and open embassy internet to promote our supernatural Vietnam war movie (Freedom Deal) to festivals.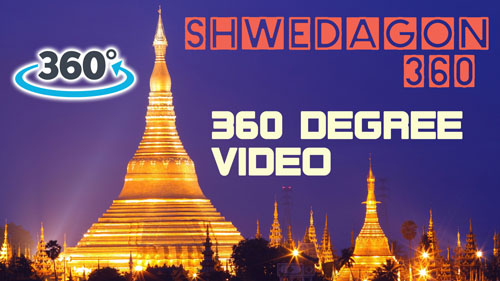 Following my time at the American Center, I returned to the US - as I did annually, at least - to promote my filmmaking and to interview for the foreign service.
I didn't get into the foreign service; thishad been the 2nd time I'd made it to the challenging oral exam stage in all my applications. Without a base in the US and immediate work prospects there, I was burning too much cash relative to my savings, and so returned to ASEAN.
Back in Southeast Asia, I taught Academic Writing and Public Speaking at a University in Siem Reap while building up my stock footage business and learning panoramic photography.
Around that time, I also became much more active in music production (having started in Bangkok with a local band, Monkey Brain, and later in Burma on my own).
I had always played music and had written songs, but never had the time to work with film and music at the same intense level without external subsidy.  I thus, 'back-burnered' my filmmaking in favor of music production, and began singing and songwriting under the aka, Gone Marshall.
I focused dominantly on music and songwriting from my return to ASEAN in 2015 through 2021 or so; as Gone Marshall, I released 3 EPs and numerous singles tracks; I learned the ins and outs of mixing and mastering as well.
Interestingly, songwriting to me seems to be a cousin format of short filmmaking: each song, when well written, can be as visually evocative as a movie.
In 2020 or so (during the time of peak Covid), I was in Cambodia where the lockdowns were handled adroitly and effectively, though not as stringently for the most part as neighboring Vietnam. As many venues stayed open until the strictest lockdowns appeared to shutter them, I was able to rack up hundreds of hours of stage time, singing and performing at various gigs and open mics. Overall was very beneficial to experience as a performer.
The Present
From 2021 onward, I started producing films again, starting with shorts movies such as the antiwar underground docu, GI Says, and the aerial drone view documentary Of Tears and the Sea.
Simultaneously, I've also pivoted back into voiceover - something which I had been actively doing back in the US prior to my relocation to Asia. Subsequently, I've voiced numerous audio books, promo videos, some commercial spots, and even characters (game and animation) See my voiceover page for credits, reels, clips and more info.
As of the present, I have several new media projects in development in a range of sectors and genres - I'm also planning to undertake a Masters degree back in the US in the near future.  So, come back and visit this site again later for more updates! If you'd like to connect, drop me a line by email here.
All the Best!
Jason Rosette