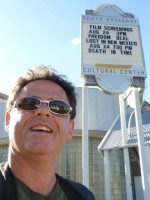 Jason Rosette is a multi-faceted producer, filmmaker, and media maker working in a wide range of genres.
His first feature movie, 'BookWars' ("Terrific" – LA Times), was released in the year 2000 to wide critical acclaim.
His debut dramatic feature as writer director, the road movie 'Lost in New Mexico: the strange tale of Susan Hero', was heralded by the Moving Arts Journal as "a unique and interesting take on the fluidity of technology versus the recurring commonality of the human condition".
DVD Verdict commented that the film is "imbued with a clear sense of cinematic vision", while New York City's Angelika Entertainment commented simply, calling it a "Great Road Pic."
Most recently, his Asian supernatural historical drama, FREEDOM DEAL: Story of Lucky, is the first ever onscreen depiction of a little-known juncture of US-Asian history.
Mr. Rosette has lived and worked in Asia, and is the founder of two regional film festivals there: CamboFest: Film and Video Festival of Cambodia, and the Bangkok IndieFest in Thailand.
While in Asia, he directed numerous shorts and documentaries including: 'Vuth Learns to Rock', Cambodia's first homegrown rock and roll documentary!
Mr. Rosette is also a member of SAG-AFTRA and an established voiceover talent; he studied at New York University's Tisch School of the Arts (Film & TV), gaining a BFA as a Trustee Scholar. He has a Masters of Arts in development studies from the Royal University of Phnom Penh, Cambodia.
Mr. Rosette is a lifetime exhibiting artist (as filmmaker) member of the Museum of Modern Art in New York City.